Does It Come with a Cover?
In short, yes! All new Hot Spring Spas hot tubs come with their own cover. They are made with a custom seal for a perfect fit, meaning that your heat bill will not go up due to heat escaping your hot tub. They are also made without a center metal beam so your seams will remain intact for years to come! Basically, the cover that comes with the hot tub is great. However, there are some additional cover options and accessories that you can choose to get that are not included in the price of the hot tub.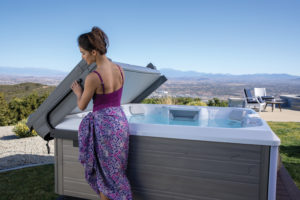 Cover accessories and cover lifters are really great additions to the traditional cover. There are three cover lifter options that you can purchase with your hot tub including the CoverCradle II, UpRite, and Lift 'n Guide. These additions are simply there to make removing your cover easier and lighter. 
The last additional cover option beyond the standard cover is an electronic cover with privacy walls called the "Covana". The Covana the most convenient of covers, as it electronically lifts up and down. 
To read more about all of the types of hot tub covers, check out our blog post "Hot Tub Covers 101!"