Hot Tub Covers 101
When it comes to hot tub covers, there are varying options that depend on the level of convenience you desire! Truthfully, all Hot Spring Spas hot tub covers are great and you really can't go wrong. Essentially there are three options for hot tub covers: a standard cover, a cover with a cover lifter, and a Covana cover. Allow us to explain each type, starting with the standard cover:
Standard Hot Tub Cover
The standard cover is included with the price of any new Hot Spring Spas hot tub. Each tub has its own custom cover, made for a perfect fit and shape! They have a tight seal around the tub, meaning that your heat bill will not go up due to heat escaping your hot tub. Unlike many other hot tub brands, they are also made without a center metal beam so your seams will remain intact for years to come!
The standard cover has two opening options: front to back or side to side. A majority of hot tub owners choose front to back, but it depends on where the hot tub is placed. Occassically, decks or house walls get in the way of front to back opening and it only works for the hot tub to open side to side. It is up to the owner!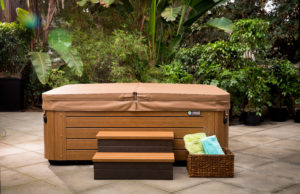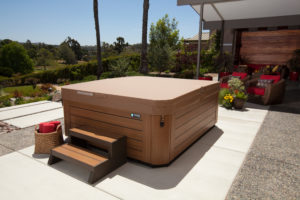 Cover Lifters
Cover lifters are mechanisms that are designed to make the cover-removal process easier. Hot Spring Spas makes three different cover lifters: CoverCradle II, UpRite, and Lift n' Glide.
CoverCradle II Cover Lifter
The CoverCradle II is the largest of the cover lifters, as it requires 24" back clearance and 3" side clearance. This cover lifter glides very smoothly and does a lot of the heavy lifting for you. Once opened, the cover rests in the back of your hot tub on metal bars. To see the CoverCradle II in action, watch this short video.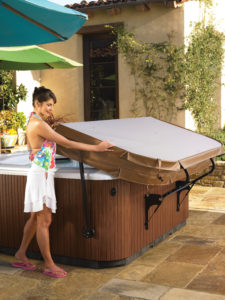 UpRite Cover Lifter
This cover lifter is ideal for limited space, as it requires only 7" back clearance and 3" side clearance! A perk of this cover lifter is that the cover sits straight up on the back of the hot tub, thus providing a little privacy wall when up (see photo). To see the UpRite Cover Lifter in action, watch this short video.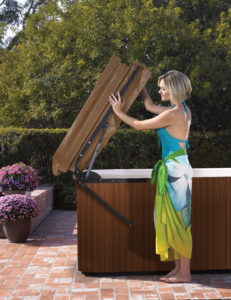 Lift n' Glide Cover Lifter
The Lift n' Glide lives up to its name as it glides back before you lift up! This lifter requires a little more space than the UpRite Cover Lifter, as it requires 14" back clearance and 3" side clearance. To see the Lift n' Glide in action, watch this short video.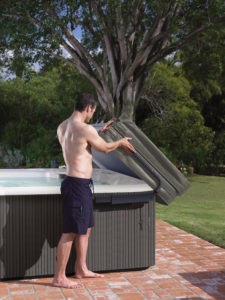 Covanas
The Covana hot tub cover is the most technologically-advanced, convenient, and expensive of all the Hot Spring Spas covers. This is an electric cover that raises up and down through the use of a remote. The remote can be left attached to the hot tub, but many people choose to set them up inside their homes. This keeps your hot tub very secure and eliminates the risk of any unwanted visitors. In addition, the Covana cover provides shade during sunny days and protection from snow and rain during not-so-sunny days. Overall, the Covana cover is the top-notch hot tub cover option and is very popular with our customers!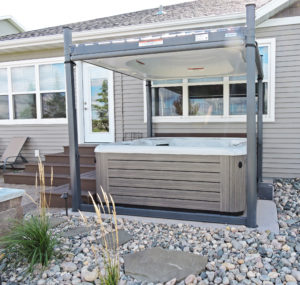 There you have it! This has been your session of Hot Tub Covers 101. If you have any questions, always feel free to give us a call at (844) 200-SPAS (7727).