Our History
HotSpring Spas & Pool Tables 2 is the oldest hot tub retailer in North Dakota! We have been family-owned by the Wuebkers for over 40 years! Our current owner, Vincent Wuebker, grew up with parents who owned Hot Spring Spas stores in Minnesota and South Dakota and grew a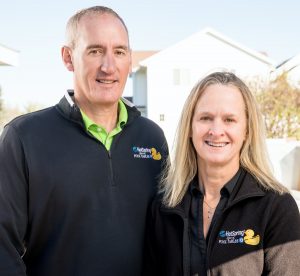 fondness for the business and products. He then bought what is now Hot Spring Spas & Pool Tables 2 in the year 1997. Ever since, Vince and his wife, Sarah, have been working diligently to bring their vision for the brand alive by providing the best possible ownership experience to every customer.
We help our customers have Every Day Made Better with Hot Spring Spas hot tubs, Finnleo saunas, Olhausen & Brunswick billiards, Splash Pools, and Tropitone & O.W. Lee outdoor furniture. These brands are dear to us as they've stood the test of time for functionality, usefulness, and aesthetics. We say we believe in "Every Day Made Better" because we don't believe in selling a novelty item; we believe that our products create a new lifestyle and improve overall wellness for our customers.
When you visit a Hot Spring Spas & Pool Tables 2 showroom, you won't find a bunch of pushy salespeople. You'll discover educated, friendly, and trustworthy Sales Pros. They are passionate about our products and will tell you what you need to know to make the best possible decision for you and your family. Let us help you find your "Every Day Made Better" today!
We welcome you to visit our showrooms in Bismarck, Grand Forks, and West Fargo, North Dakota.
If you have any questions, please feel free to call us at 844-200-SPAS!
Our Awards
Locksin Thompson Award:
2012, 2017
HotSpring Spas & Pool Tables 2 received top honors, being named the 2012 and 2017 Locksin Thompson International Dealer of the Year by Watkins Wellness, maker of Hot Spring Spas, the world's number one selling hot tub brand.
Watkins Executive Vice President Mike Dunn called Wuebker and team, "Passionate believers in the HotSpring Brand, and true hot tub evangelists." They were also lauded for the admiration they have among the Hot Spring dealer network throughout North America.
"To be a Locksin Thompson Dealer of the Year, a dealer must embody the entrepreneurial spirit that enables them to recognize, adjust, and progress through the ever-changing challenges of the retailing and hot tub industry," explains Dunn. "True to the spirit of this award, HotSpring Spas & Pool Tables 2 is progressive and proactive," said Dunn. "They are committed to both achieving their goals and to providing an exceptional customer experience."
HotSpring Spas & Pool Tables 2 was chosen from among than 700 Hot Spring dealers worldwide to receive the hot tub manufacturer's most prestigious dealer award. The award is named in memory of Locksin Thompson, a highly respected, early pioneer dealer in the hot tub industry.
Hot Spring Spas Territory Dealer of the Year Award:
2005, 2009, 2011, 2013, 2014, 2017, 2018, 2019
Watkins Wellness Award:
2016 (First year the award was presented)
Retail Excellence Awards:
Superior Sales Consistency 2001
Store Perseverance 2010
Showroom Design 2011
Sales Productivity 2012
Showroom Design 2013