Why We Love Tropitone Outdoor Furniture
Tropitone Outdoor Furniture!
We've heard it before: Why is your patio furniture priced higher than big box stores? What makes it special? To answer shortly, a lot of things make Tropitone outdoor furniture special. In this blog post, we want to outline a few reasons why it's definitely worth the splurge:
It's made to last.
One of the best things about Tropitone patio furniture is that is never rusts or oxidizes. This means that your furniture will be looking amazing for years to come! The cushions are also fade resistant. If you take care of them, they'll look amazing for way longer than a standard cushion would. Tropitone patio furniture is actually commercial grade, so it's the exact quality that you'd find at a Sandals Beach Resort! That brings us to our next point…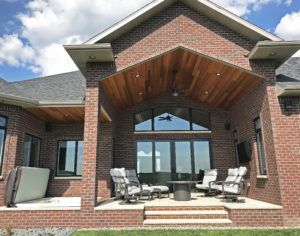 The cushions are amazing.
As we previously mentioned, Tropitone cushions are fade resistant. Hold up, but that's not all! They also dry really, really quickly. If you accidentally leave your cushions out in the rain, just wait about 20-30 minutes and they'll be dry and ready to sit on again. They also don't accumulate odor!
It's highly customizable.
As far as customization goes, it doesn't get much better than Tropitone furniture! They have 460+ cushion colors and patterns alone. Whatever is in your head, Tropitone can make it happen. To learn more about our options, visit our blog post titled "Customizing Your Outdoor Furniture."
Tropitone has been in the business since 1954.
If anyone knows outdoor furniture, it's Tropitone. They started making commercial outdoor furniture in 1954 for hotels, motels, clubs, and resorts. They later started making furniture for residential use that still maintains the high-end, commercial quality. When you buy Tropitone you know that you are buying the best that outdoor furniture has to offer, backed with years of business.
To learn more about Tropitone and find your perfect set, visit one of our five showroom locations across the state of North Dakota!