Perks of a Tropitone Fire Table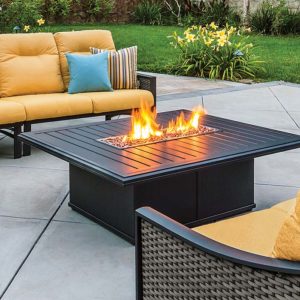 Tropitone fire tables truly are a one-of-a-kind product that will surely give you and your family Every Day Made Better. In this blog post, we're going to go over a few reasons why a Tropitone fire table just can't be beat:
They're made to last.
Tropitone fire tables are made from extruded aluminum and are powder coated, which is a dry, colored powder that is applied and heated to "cure" the coating onto the fire table. With a powder coated aluminum base, you're unlikely to experience peeling, flaking or warping. In addition, because they are made from extruded aluminum, they will also never rust or oxidize. Rusted fire tables are not only an eye sore, but rust causes holes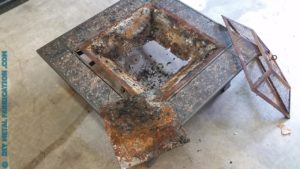 in the metal. Here, you can see an image of what happens to standard fire pits when they rust; it's not pretty and not usable! Money spent on replacing your fire pit every few years could be spent on getting you a product that lasts and lasts.  A Tropitone fire table will look just as beautiful as when you brought it home for years to come!
They're powerful.
A Tropitone fire table has a BTU capability of 90,000BTU. BTU stands for British Thermal Unit and, in short, it is a way of measuring heat energy. A standard fire table would have a much lower BTU, meaning it would not be able to produce as much heat. Because Tropitone fire tables are so powerful, they can produce up to a 4-foot flame! Now that's toasty.
They're customizable.
Tropitone fire tables truly are beautiful! They come in 18 different finishes and colors, different pebble colors, and various shapes and sizes. Some of the beautiful finishes include Espresso, Almond Silk, and Aged Bronze. For a full list of finishes you can click here to go to the Tropitone finishes swatch page! With all of these options, you're sure to find the perfect table to match your home and patio.
They have a great warranty.
Tropitone fire tables come with a 15 year commercial warranty! Not only is this assuring, but it demonstrates how strongly they believe in their products and their ability to last through the years.
They're tech savvy.
If the flame goes out on a Tropitone fire table, the gas flow automatically shuts off. This will save you unnecessary money on gas when the table is not lit. No other brand of fire tables does this!
All in all, Tropitone fire tables are an amazing addition to any outdoor space. Their quality and capabilities are unmatched by other fire table brands!
If you have any questions or would like to purchase a fire table of your own, please contact us at (844) 200-SPAS!