"Faux Wicker" Explained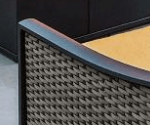 "Faux Wicker" is a misnomer. "Wicker" is a certain pattern of weaving that dates way back. Most often people or manufacturers create wicker items by weaving strands of willow, rattan or other natural materials. While the wicker pattern creates a strong hold, over time the strands of natural material tend to fray and splinter. Also, many times wicker furniture is painted and as it weathers the furniture just doesn't look good.
"Synthetic wicker" or "Faux wicker" means a non-natural material (polyethylene) was woven into a wicker pattern to create an item. Some of our vendors like Splash Pools and Tropitone (outdoor furniture) use high-quality faux wicker for its many advantages. It's stronger, twice as UV resistant as the color is embodied when the resin is still liquid and anti-UV ray solution is incorporated, and will not fray or splinter over time.
There are two ways in which synthetic wicker can be woven. The first is when skilled craftsman takes strands of polyethylene and weave them tightly by hand as one would with natural strands of material. The other method is not woven at all. Instead, the liquid polyethylene is poured into a mold that emulates the pattern of wicker. Thus, the finished product is not woven, but one solid piece of polyethylene that looks like it has a wicker pattern. Both methods can be beautiful, but the hand-weaving is still seen as more luxurious.