Tips for Navigating a Home & Garden Show
It's home show season! We've gathered our best tips for a successful trip to your local home and garden show: 
Research who is going to be there and who you want to visit.
It's best to know ahead of time which vendors are going to be at the home show and have an idea of which ones you'd like to visit. This is a great way to ensure that you don't miss any important vendors when wandering around!
Have inspiration photos ready for any special projects you have in mind.
If you have any special projects in mind, we recommend having inspiration photos ready to show vendors! This will give them a better idea of what products and services you may be needing in order to complete your project and will save time by not needing to explain the project over and over. A picture is worth a thousand words and will definitely help you and the vendors get on the same page!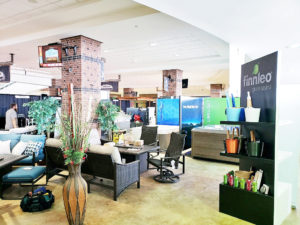 Research any kid activities available if you plan to bring your children.
Sometimes home shows have kid stations and activities for your kids to do while you explore the show and talk with vendors. Definitely check if the home show you are going to has anything geared towards kids! If not, you may consider getting a babysitter while you go to the event, simply because it could be difficult to have conversations with vendors if you are distracted by your children. At the end of the day, it's totally up to you and depends on how many in-depth conversations you want to have!
Inquire about home show pricing.
Sometimes vendors offer special discount pricing just for purchasing a product or booking a service while at a home show! This is not always the case, but it never hurts to ask. You just may save yourself some money!
Be open!
While it's good to have an idea of what you are looking for, it is also good to be open to new ideas! Home shows are all about gathering inspiration and ideas for your home from the area's top vendors, so open your mind to new trends and products. Be willing to hear what vendors have to say and you may end up with a better finished project than you had imagined!
You're ready to become a home show pro! We have a variety of home shows coming up within the next month and you can check the schedule below for one near you:
Red River Valley Home & Garden Show– February 22-24
Minot Home Show– March 1-2
Minot KX Sport Show– March 8-10
Bismarck Home Show– March March 15-16
Forx HBA Home & Garden Show– March 22-24