Tips for Buying a Used Hot Tub
Recently, Valley News Live did a story about a customer that got scammed when purchasing a used hot tub at Tubs of Fun in Fargo. Because of this, we would like to give you some helpful tips on what to consider and look for when purchasing a used spa!
Never buy a pre-owned spa from a 3rd party.
Spas listed as "$800 you pick up– spa is in perfect condition" can be a little tempting, but we're telling you now: Don't do it! When you purchase a spa on CraigsList or Facebook marketplace, you simply have no idea what you are getting into. A faulty or old spa can run into some very expensive issues and could wind up being more of a money pit than something you enjoy.
Consider the risk.
If you purchase a used tub from a third party or dishonest dealer, what is the risk involved? Here at HotSpring Spas & Pool Tables 2, we offer a 1-year trade up guarantee for all used hot tubs purchased from us. Furthermore, we certify our used hot tubs to guarantee that every component is working properly. If you purchase a hot tub somewhere else, that might not be the case. To give you an idea of the risk you're taking with that, a faulty pump alone could cost you $1,000 to replace!
If you're purchasing used, purchase a Hot Spring Spas hot tub.
If you're purchasing used, we highly recommend a Hot Spring Spa! Because of the way HotSpring Spas are designed, most models have a circulation pump built in. The circulation pump on a hot tub saves the main pumps hundreds and even thousands of hours of wear and tear. This is major advantage and the reason why so many Hot Spring Spas customers are still using their hot tub for 20 plus years. Here's a review from one of our customers in Minot that attests to their longevity: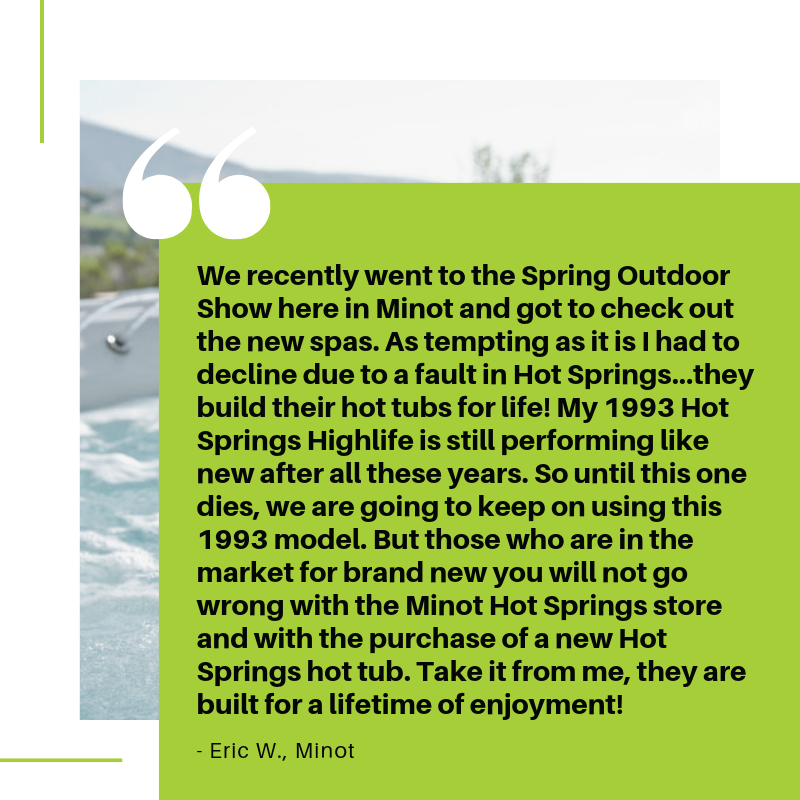 Who is going to deliver, install, and service your spa?
Delivering and installing a hot tub is no easy feat, so make sure whoever you are buying from knows how and is able to do that for you. Furthermore, if you purchase a used tub and something goes wrong, who is going to fix it? Most hot tub retailers give don't carry extra parts for other brands, so they may not be able to service it if needed. priority to servicing their own customers' hot tubs, so this is another reason to stay away from third parties. Here at HotSpring Spas & Pool Tables 2, we offer delivery, set up, and continued service for those who purchase used spas from us!
Check Google reviews.
When purchasing a big ticket item, it's always helpful to check the Google reviews for the retailer you plan on purchasing from. If it looks like a majority of people have had issues of some sort, we recommend you stray away.
Don't buy a tub older than 10 years old.
We really recommend purchasing a newer used tub. A used tub older than 10 years is just likely not worth your money.
Check what condition the cover is in.
Hot tub covers are more important than what you may realize! In our cold midwest winters, they keep your spa insulated, which saves you money. A new cover is not necessarily cheap, so we recommend assuring that the cover to your used spa is in good working condition. If you aren't sure how to assess that, watch our YouTube video titled, "When Should I Replace My Hot Tub Cover?"
We hope these tips and things to consider after helpful when shopping for a used hot tub. If you'd like to see some of the great used tubs we have to offer, stop into any of our showrooms today!