Why a Hot Tub?
As people, we are in a battle for balance – physically, mentally, and relationally. At a certain point, a person can only do so much to always try their best. However, studies have shown that relaxing just 20 minutes a day in a hot tub like the HotSpring Spas & Pool Tables 2 Grandee NXT can yield instant rewards that amp up your wellness to increase longevity.
Why a hot tub?
While there are many ways to improve your health, none could be more practical, relaxing, and enjoyable as a HotSpring hot tub. Those who have hot tubs want to sleep better, walk further, be a better person, and have a better quality of life. With clean, warm bubbling hot water, this is an easy reality. Warm water is notorious for soothing muscles and inducing relaxation. Part of this comes from the fact of water transferring heat 25 times faster than air. This brings faster recovery, less time to start relaxing, and more time relishing life. A hot tub creates a great escape, an intimate getaway, a great social center, and fun family time. The best part is there's no time spent packing, driving somewhere or wait for you to use a hot tub. Every day it's ready for you whether it's for a refreshing 5 minutes or indulging for a whole evening.
Why a HotSpring Hot Tub?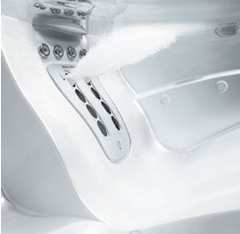 We firmly believe you will have Every Day Made Better with the absolute best ownership experience. You get a better massage relieving all 640 of your muscles of tension and stress. Our patented jets are specifically designed for particular muscle groups such as your feet, legs, and back, This includes the renowned Moto-Massage XD Jet System (see right), which is hailed as the ultimate in-hot tub back massage due to its two powerful streams of water that rush along your spine. It's a massage you won't get anywhere else!
HotSpring hot tubs also feature (arguably) the best water with our Ace salt water system. It creates powerful oxidizers and chlorine sanitizers via diamond electrodes. This resulting sparkling clean water requires fewer bottled products and therefore less maintenance. HotSpring' s hot tub water is so good you'll want to enjoy day after day.
Additionally, you'll get the most energy efficient hot tub available. This means a SmartJet system giving power only to the jets you want. This also means we have select insulative materials for the best insulation. And, we have a patented pump shroud to transfer heat from equipment compartment to the water.
Why Today?
We don't want to sell a novelty item you'll regret later. Instead, we sell our core mission "Every Day Made Better". Better water. Better massage. Better energy. Better health. And, that's why you'll absolutely use your hot tub every day. You get out better than you got in – physically below the water, mentally above the water, and relationally beyond the water.