Trading Up to a HotSpring Hot Tub
HotSpring hot tubs are a great way for loved ones to be brought together and talk without distractions. They are a great way to feel better after a long day, a rough week, or just to make yourself a better you.
So many people are dissatisfied with their "other" brand hot tubs, so, we often do trade-in deals with our customers to help them upgrade to a HotSpring. This also helps get the best deal overall. We offer a trade-in value, free pick up of your old hot tub, and as always, free delivery and setup of your new HotSpring hot tub.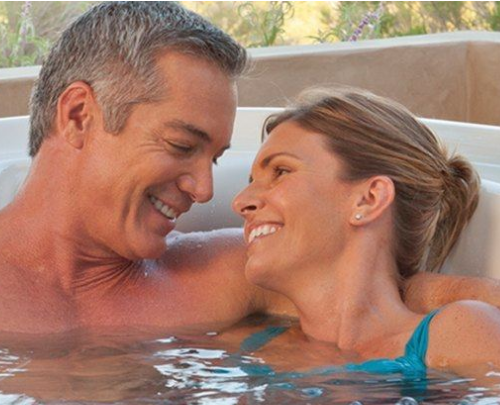 We've discovered from our 40+ years of doing business, that water quality, massage effectiveness, and energy efficiency are the three biggest factors in determining if you'll use your hot tub or not. That is why we here at HotSpring Spas and Pool Tables 2 have made those fears disappear. If you're still on the fence about trading in and up to a HotSpring spa, here are three exclusive HotSpring features to consider:
1. Better Water
Our ACE Salt Water Sanitizing System is the closest thing to maintenance-free water care that you will find. It creates its own natural cleaners via salt making it easier to take care of your water. See more details here.
2. Better Massage
The Moto Massage DX jet is a masterpiece being the only moving hydrotherapy jet on the market. Delivering two columns of water to massage from your lower back, near your tailbone, all the way to your shoulder blades. This jet is like no other and comes exclusively on HotSpring Highlife Spas.
3. Better Energy
Living in a cold climate as we do in North Dakota, we know that keeping your hot tub warm is key. This is done very simply with a HotSpring Spa. A HotSpring Spa has an innovative new way to insulate your spa, it's called Fiber-Cor. This wool-based insulation can be squeezed into every nook and cranny of your HotSpring Spa to ensure that it can battle the elements. Couple that with four other types of insulation and a circulation pump that runs on the same power as a light bulb, and you have the spa for any condition. For further details on energy efficiency see our article here.
So again, if trading up to HotSpring hot tub is something you're interested in, feel free to stop into one of our four showrooms,give us a call at 877-200-7727, or use our Hot Tub Trade-Ins page.