All About the HotSpring Hot Tub Wireless Remote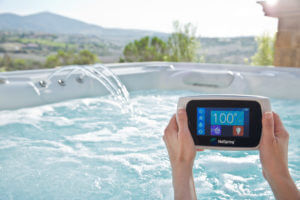 The HotSpring wireless remote control panel is a new form of technology bringing a whole new meaning to hot tubbing. The wireless remote control panel features an LCD touchscreen with colorful features used to operate all of the functions of your hot tub. It works with wireless communication to your control system and has wireless charging.
The wireless remote gives you the ability to fully personalize and control your hot tub to fit your taste, from the temperature to the lights, the jets, and more. The remote's home screen functions and features include a power button, memory screen, clean cycle, settings screen, status indicators, temperature control, jets control, lights control, and if installed, Bluetooth music, and ACE saltwater care control.
Within the home screen applications, there are personalizable features including the temperature settings, temperature lock, spa lock, summer timer, lights timer and color wheel, language settings, screen brightness, and if installed, Bluetooth music features and sound adjustments.
Your HotSpring remote can be found charging on the bartop dock in front of your hot tub. This is where your remote will charge and can rest when not being used in the hot tub. When the remote is off of the dock, you can use the wireless remote in or out of the hot tub up to 30 feet away. The HotSpring Spas that come with a wireless remote control panel include the Jetsetter NXT, Aria NXT, Vanguard NXT, Envoy, Envoy NXT, Grandee, and Grandee NXT.