Hot Tub Electrical Setup 101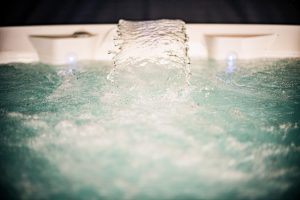 You have already made the best decision toward Every Day Made Better by incorporating a hot tub into your lifestyle. Before it's delivered you really only have to do 2 simple steps: 1.) Provide an area to place the hot tub 2.) Make sure the electrical is hooked up. The hot tub electrical setup needs to be done by your electrician, as our delivery techs are not licensed to do wiring on anything other than the hot tub itself. The electrician will then wire the hot tub to the home.
The following is a list of things that your electrician will need to prepare before the delivery occurs:
Locate the electrical panel in your home. This is where the power of the spa will be wired.

The electrical panel needs to be a non-GFCI 50amp breaker.

A licensed electrician will then need to run 240-volt wiring to the 50 amp sub panel that will be mounted on the outside of the home. You will use four-wire electrical service using (two-line voltage, one neutral, one ground) #6 AWG wire with the ground wire being #10 AWG.

The sub-panel box which has a 30 amp and a 20 amp 220-volt GFCI breakers will be mounted no closer than 5 feet from the tub and not exceed 50 feet.

From this subpanel, your electrician will need to run the appropriate length of wire (using rigid conduit, flexible conduit, or SO Wire/also referred to as "outdoor wire") to the front-center of the spa under the control panel. Three feet should be added to ensure enough length to reach the motherboard of your new spa. This wire coming off the 30 amp breaker (two-line voltage, one neutral) is #10 AWG wire. This wire coming off the 20 amp breaker (two-line voltage) is #12 AWG wire. The sixth wire is the ground wire which comes from the ground bar in the sub-panel to the ground bar in the hot tub which is #10 AWG wire.
It is likely that your electrician already knows what to do and has wired many hot tubs before. However, they do not know everything about your specific hot tub or breaker, so it's best to have this information in your back pocket in case you may need to provide it. If you make sure to contact your electrician and schedule a visit to your home before your spa arrives, delivery day should be a breeze!
Note: Always ensure the white neutral wire is connected to the load neutral of the 30 amp breaker (Located on the backside of the breaker). The number one mistake an electrician will make is hooking up the neutral wire to the neutral bar instead of the load neutral of the breaker.
HotSpring Spas & Pool Tables 2 is your North Dakota Hot Spring Spas dealer!