Do You Follow The Hot Tub Etiquette Rules?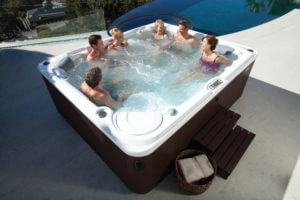 When it comes to soaking in someone else's hot tub, there are a few basic etiquette rules. They are easy to follow and will make the world of difference to your host. (Let's be honest, you want to be invited back, right?) The rules were unwritten, until now! Follow these hot tub etiquette rules to make sure you will get invited back over and over again:
Wipe off the side after you get out.
When you're done soaking, it's nearly impossible to get out without dripping water down the cabinet walls. While this is relatively harmless, you will be able to see dried up water marks after the water evaporates. Be a good guest by simply wiping the exposed parts of the hot tub down with your towel after you dry off. The hot tub's owner will be very impressed with your thoughtfulness and effort to keep their hot tub looking clean!
Don't bring glass into the tub.
If you BYOB, it's best not to bring glass bottles. You really shouldn't bring glass in a hot tub because, if it breaks, you'll likely have to drain the hot tub to thoroughly clean out the glass shards. If the host is drinking out of glass cups or bottles, it's probably okay to follow their lead. We just suggest that you aren't be the first to bring out the glass because they may not want it anywhere near their tub!
Bring your own towel.
While the host probably has towels for you to use, it is proper etiquette to bring your own just in case. They just may appreciate fewer towels to throw in the laundry afterward! 
Be careful of what you track into the tub.
If you have any grass or dirt on your feet, wipe them off with a towel before entering the tub! Nobody wants debris floating around in their hot tub.
Don't change any settings without asking.
Your host will not appreciate you messing around with their settings. The temperature setting is especially a no no! Most hot tub owners are quite particular about their settings and know what they like. If you want something changed, don't do anything without asking first!
Be extremely careful while removing the cover.
Hot tub covers can be a tricky thing. Some are very durable and easy to remove and some are… not. If you're helping the host remove the cover, or you're removing it yourself, just make sure you use caution and understand how the cover works!
The last etiquette rule is to HAVE FUN! If someone invites you over for a soak, they want you to enjoy the hot tub with them. Happy hot tubbing!