Hot Tub Collections Explained
Choosing the perfect hot tub for your needs can be a little challenging. It all depends on what you'll be using your tub for, who will be using it, where it's going, and so much more! While our Sales Pros are experts in this area and can surely help you find your best fit, we wanted to outline the hot tub collections for you. We carry Hot Spring Spas, which has four unique collections of hot tubs, as well as FreeFlow Spas. They all offer different premium features at many different price ranges; It will be tough for you not to find the perfect hot tub! 
Highlife NXT Collection- "For the High-End Shopper"
The Highlife NXT is the most luxurious, and therefore the most expensive, of the four collections. It is literally the BMW of hot tubs, as it was designed by BMW themselves. Its chic appearance and plethora of amazing features really sets it apart from the rest. The design of this tub is different from all other collections because of its Polymeric substructure and base pan. This refers to the space below the tub that keeps the base pan off the ground. This keeps the tub better insulated by minimizing its contact with the ground, as well as creates a modern look and feel.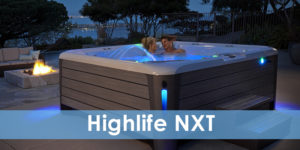 The Highlife NXT collection also has Moto-Massage DX, which is a jet that sweeps up and down your back to give you a fuller massage experience. This tub allows for Tri-X filters, which are easier to maintain and last longer than standard paper filters. It also is compatible with the ACE Saltwater System, making maintenance even easier yet. This is the only collection that features a wireless touchscreen remote that can be used anywhere in the hot tub. As far as lighting goes, it has all the lighting options you could imagine, ranging from exterior lighting, interior lighting and multi-color lighting.
Overall, the Highlife NXT series is made for the consumer that wants everything. With this collection, you won't have to sacrifice convenience, aesthetics, or quality. You can have it all!
Highlife Collection- "A premium, luxury hot tub like no other"
The Highlife Collection is very similar to the Highlife NXT Collection, aside from a few less features and being slightly lower in cost.
This collection also has Moto Massage DX and was designed by BMW. The Highlife NXT and Highlife are the only two collections that have these amazing features! This is also the only other collection that allows for Tri-X filters as opposed to paper filters. This Collection is compatible with the ACE Saltwater System as well.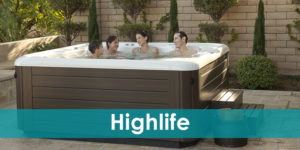 As  far as differences between this collection and the last, the Highlife Collection does not have the same Polymetric substructure that the Highlife NXT series has. The controller is not wireless like the Highlife NXT, but the controller is still a touch screen and is otherwise the exact same. It does not have exterior lighting options, but has a wide variety of interior lighting options.
Overall, the Highlife Collection is also very luxurious and offers a lot to its owners. It has a beautiful look and many useful and appealing design features!
Limelight Collection- "A premium hot tub at a competitive price"
The Limelight Collection is a very unique collection and has a few different features than other Hot Spring Spas. As far as price goes, it sits around the same price range as the Highlife Collection.
As far as similarities to previous collections go, the Limelight Collection is compatible to the ACE Saltwater System as well. Like the Highlife NXT Collection, it has exterior lights in addition to interior lights.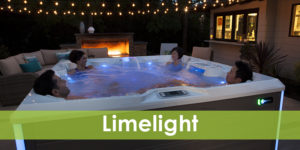 One perk of the Limelight Collection is that it actually has an additional jet type that the Highlife and Highlife NXT Collections don't have. This collection does not have touch screen remotes, but it does have a full color remote. One difference between this collection and the Highlife and Highlife NXT Collections is that is has FiberCor insulation instead of layers of foam insulation. It also does not allow Tri-X filters, so owners have to use standard paper filters.
Overall, the Limelight Collection is very appealing to a lot of customers. It has a unique look, reasonable price point, and is a great quality tub!
HotSpot Collection- "The absolute best value in the hot tub world"
Lastly in the Hot Spring Spas family, we have the HotSpot Collection. This is the most affordable collection of Hot Spring Spas and has a more basic set of features.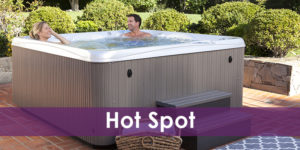 One big difference between the HotSpot Collection and all of the other collections is that it is not compatible with the ACE Saltwater System. It only has two different types of jets, as opposed to the Highlife/Highlife NXT Collections that has 7 different types of jets and the Limelight Collection that has 8 different types. This collection does not have color remotes, nor does it have exterior lights.
This collection still has the potential for Bluetooth capabilities. It also has interior lights and FiberCor insulation.
Overall, the HotSpot Collection is an affordable collection that is perfect for those who really just care about the hot water and not so much about additional fancy technology.
FreeFlow Spas- "The easiest hot tub to own"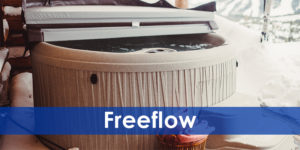 Lastly, we carry FreeFlow Spas, which are not a part of the Hot Spring Spas brand. These spas are incredibly easy to own, as they are portable and have plug-n-play technology. You can literally plug them into a 100v outlet and get to soaking! They are also energy efficient due to foam insulation, which leads to a very low operating cost. Some perks of FreeFlow spas include multi-color interior lights, built-in ice buckets for drinks, an an easily accessible top loading filter. These spas are incredibly affordable, but do not sacrifice quality!

All Hot Spring Spas collections have Bluetooth music capabilities and all five of our collections come with a custom fit cover. Other than that, they all have their unique features! We hope this article helped to determine the differences from the four Hot Spring Spas hot tub types as well as FreeFlow Spas. If you have any questions about what collection is the one for you, stop into one of our locations and let our Sales Pros explain further!