Below, Above, and Beyond the Water
At surface value, hot tubs are just a recreational addition to your home. However, if you do your research you'll learn that they are so much more than that. Go ahead: google "benefits of a hot tub". You'll find more benefits than you ever could have imagined! It all boils down to the fact that hot tubs make you better below, above, and beyond the water. This means that they make you physically better below the water, mentally better above the water, and relationally better beyond the water. Allow us to explain:
Below the Water
Below the water, hot water is making your body physically better. One of the main physical benefits of soaking in a hot tub is improved cardiovascular health. In addition, soaking also relieves muscle tension through hydromassage. These are just a few health benefits of hot tubs, which we explain in our blog post, "Four Benefits of a Hot Tub"!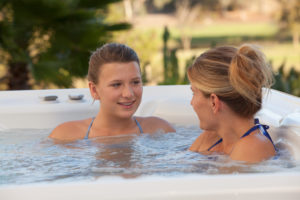 Above the Water
Above the water, your mental state is improving while you soak in a hot tub. Hot tubs reduce stress and anxiety, as well as provide a peaceful escape from reality. Soaking in a hot tub can also improve sleep, which we highlight and explain in our blog post "Tips for a Better Night's Sleep". Better sleep leads to more energy and a better overall mood, which is a major bonus for your mind!
Beyond the Water
Beyond the water, hot tubs improve your relationships. Spas are becoming the new "dinner table" for many families! They serve as a place to come together, talk, and spend quality time together without distractions. Hot tub time is time spent unplugged, as it's not a great idea to bring electronic devices in with you. When you're in a hot tub, the stresses of the world seem to melt away and it's a great place to connect fully with those you love.
Now you understand what we mean when we say that hot tubs make you better below, above, and beyond the water! To learn more or schedule a test soak, give us a call. Our Sales Pros are ready to answer all your questions about the joys of owning a spa!