Three Delicious Detox Water Recipes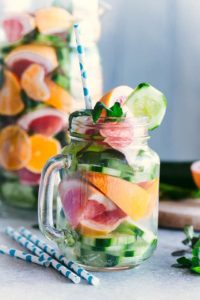 When done in moderation, detoxing is a healthy way to flush toxins out of your body. Aside from the usual sauna session and exercise, a cold detox water may be just what you need to flush your system. Because of this, we gathered three amazing detox water recipes that we think you'll love! Get sippin':
"Flat Tummy Detox Water"
Our first recipe comes from nutritionist J.J. Smith and was  featured on Dr. Oz. She loves this recipe for its anti-inflammatory properties and spicy zest! The recipe is enough for four 12 oz. servings.
What to Do:
Mix the following to 48 ounces of cold water:
– 1 small, sliced lemon
– 8-10 cucumber slices
– 1 T grated ginger (there's the spice!)
– A few mint leaves
Let the detox water stand in the fridge overnight. 
That's it! Pour it into a glass and reep the benefits!
"The Original Day Spa Apple Cinnamon Infused Water Recipe"
Our next recipe comes from food blogger Audrey Johns. This recipe has become extremely popular on her website, Lose Weight By Eating. She explains the benefits of this water by explaining, "Did you know both apples and cinnamon raise your metabolism? Apples are extremely rich in important antioxidants and flavanoids, including Vitamins C and B Complex.
What to Do:
Place the following ingredients into an empty pitcher:
– 1 Apple, thinly sliced (She suggests Fuji or Honeycrisp)
– 1 cinnamon stick
Fill the pitcher with water and ice and leave in the fridge for at least one hour. When you pour the water into the glass, place a few apple slices in there as well. You can refill the pitcher 2-3 times before it starts to lose its flavor.
Yum! This is the perfect detox water for fall!
"Spa Detox Water Recipe"
The last recipe is from diethood.com and it's amazing! It includes grapefruit (which has fat burning properties), tangerines (that are packed with nutrients), cucumbers (which flush out toxins and keep you hydrated), and mint (promotes digestion)! Wow! That's a lot of goodness in one cup of water.
What to do:
Combine the following in a large pitcher of water:
– 2 whole grapefruits, washed and sliced (you do not need to peel them)
– 2 whole tangerines or oranges, washed and sliced into thin rounds OR peeled and segmented
– 2 whole cucumbers, washed and sliced
– 20 fresh mint leaves, washed
Place all of the ingredients into a large (80-90 ounce) pitcher and fill with water. Make sure to cover it with a lid or plastic wrap and let sit in the fridge overnight.
There you have it! Three easy-to-make, delicious recipes that you can make in only minutes at home. Not only are these waters cleansing, but they just may cause you to reach for your glass of water a few more times throughout the day because of the yummy taste. Get hydrating!