Who Is Olhausen?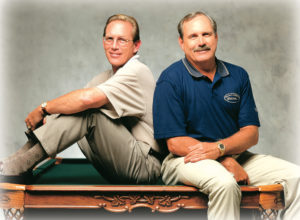 When you buy an Olhausen Billiards table, you are buying quality and years of experience. Why? Because Olhausen Billiards is a family-owned business with a long, honest, and successful history. We surely are proud to carry this brand in our showrooms! Learn a little more on how this company became what it is today:
Olhausen Billiards was started by New Mexico natives Butch and Don Olhausen.  worked for their dad setting up and covering pool tables. Throughout their child and teenage years, the boys enjoyed learning a trade alongside their father. Butch and Don eventually moved away and headed to California where they started their own company moving and re-covering pool tables and they also delivered new pool tables for a local manufacturing company.
After a few years, in 1973 the manufacturing company they delivered for asked them if they wanted to buy the business for a very reasonable price. They decided to go all-in and put everything they had into purchasing and building the company! When it was purchased, the company was selling about 35 pool tables annually. Within two years, they were selling over 300 tables annually. As of today, Butch and Don have grown Olhausen Billiards immensely and sell over 300,000 pool tables annually.
Olhausen pool tables are still all manufactured right here in the USA! Their factory in Portland, Tennessee is where they make all of the tables that get shipped around the globe each year. The business is family-owned and operated today, still headed by Butch and Don. They have a dedication for quality, service, selection, and value. What a legacy!