How to Maintain & Care for Your Shuffleboard
Shuffleboard Care:
Those who play shuffleboard know that the surface of the board is very important to the playing experience, as it alters how fast or slow the pucks move across the board. There are a few measures that must be taken on a regular basis in order to keep your pucks gliding smoothly across the board. Follow these steps carefully about 2-3 times per month (depending on usage) in order to keep your shuffleboard in optimal playing condition: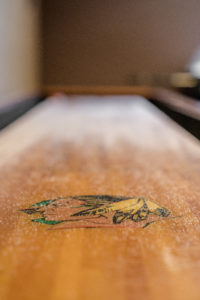 First, apply Olhausen Games Cleaner Polish with a towel to remove dust and debris from your playing surface. Buff lightly with a clean, dry towel before the surface dries. 

Apply Olhausen Games Liquid Wax with a towel. Again, buff lightly with a dry towel. Do so until the surface is extremely smooth, like ice. 

For ultimate speed, apply a light coat of Olhausen Games Silicone Spray to keep powder on the table.

Wait a few minutes after applying the Olhausen Games Silicone spray. Lastly, apply Olhausen Games Speed Powder.
BONUS TIPS:
Do NOT allow wax to dry before buffing with a towel.

Do NOT use a buffer.

Do NOT use any products such as furniture polish or silicone spray that were not specifically made for shuffleboards.
There you have it! You are now ready to play shuffleboard!