Olhausen Vs. Brunswick Billiards
So you've decided: you're getting a new pool table! At HotSpring Spas & Pool Tables 2 we offer pool tables from two different companies, both with stellar products and quality: Olhausen Billiards and Brunswick Billiards. We've carried Olhausen pool tables for years but recently added Brunswick to our product offerings as of 2017. We enjoy both of these brands and the choice oftentimes comes down to the personal preference of the customer! Here's a breakdown of the differences between Olhausen and Brunswick Billiards: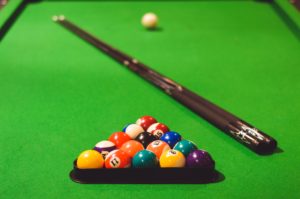 Do they have a legacy?
As far as legacy goes, Brunswick is hard to beat. If you know pool tables, you know Brunswick! They have been making pool tables since 1845, which is before North Dakota was even a state! They are backed with over a century of experience and a positive reputation. Olhausen has been in business since 1973 and is still family-owned and operated!
Where are they made?
One difference between Olhausen and Brunswick is where they're made. Olhausen makes their pool tables here in the USA in Portland, Tennessee. They do this to prevent warping of the wood during transportation overseas and to support American workers. Brunswick, however, does not make all of their products in the USA.
How much do they cost?
Olhausen and Brunswick are quite similar or nearly identical when it comes to cost. Both offer a really wide range of prices from in-home pool tables to commercial grade and competition tables.
Are the cushions the same?
Olhausen pool tables all come with their Accu-fast cushions, which are 100% gum rubber and are guaranteed for life. Brunswick pool tables are made with their SuperSpeed cushions, which aren't 100% rubber. However, they are standard in the pool table industry.
Are they customizable?
As far as customization goes, both companies offer several options for a customized table. As far as which one offers more options, Olhausen has a few more choices but not by an overly large margin. Both companies are great about helping you create the pool table of your dreams!
Whether you choose Olhausen or Brunswick, you're sure to be happy with your pool table! Both brands make beautiful tables and have years of experience and a positive reputation to prove it. If you're in the market for a pool table, give us a call today! We'd love to help you find the perfect one for you.