Olhausen Shuffleboard Basics
Olhausen Shuffleboard Construction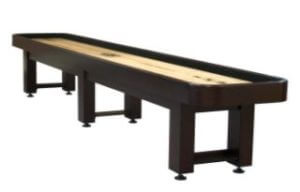 Olhausen shuffleboards are very similar to their pool tables, in the way they are made, where they are made, and the products they use. Olhausen's shuffleboard playing field is made out of solid American maple with a durable two part polymer playing surface.
Olhausen shuffleboards also include a one of a kind in house engineered system called Accu-Lock. Accu-Lock is a leveling system that will ensure a perfectly level table while eliminating the time consuming re-adjustments that you may experience with conventional adjusters. In addition to the exclusive Accu-Lock leveling system, Olhausen also has created a cross brace construction that adds rigidity to ensure table stability.
Olhausen offers over 30 unique models and finishes and also offers custom graphics to personalize your playing field.
What is a Shuffleboard Table?
American table Shuffleboard is a game that requires the players to push metal weighted pucks down a long and narrow wooden board into the scoring area on the opposite end of the table. The long board will have some type of wax and sand that is placed evenly on top of the playing surface in order for the metal pucks to move and glide across to the other end of the table.