Top 7 SplashPool Questions Answered
It's no secret: We love Splash SuperPools! Today we're here to answer the top questions we get about this amazing product:
What do I put my SplashPool on?
Basically, you can put your SplashPool on any flat, level surface that is free of debris. Some people set their pools up on concrete or grass. Many people dig into the ground about 2-4" and fill this area with sand. The reason for this is that it is more comfortable and soft for walking on the pool floor. Aside from not wanting to puncture the pool's siding with debris, how comfortable the bottom of the pool is to walk on is a great thing to take into consideration!
How much space do I need for my SplashPool?
We recommend leaving a space the size of the pool that you purchased plus an extra 2 feet on all four sides.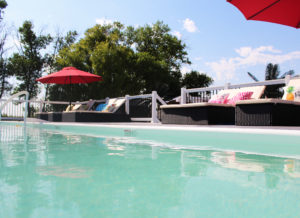 Do I need someone to set my SplashPool up or can I do it myself?
You can absolutely set your pool up yourself and we highly recommend it! The whole process really only takes about a half hour. To get a feel for how simple the setup process is, watch this short video of our owner setting up a SplashPool in front of our West Fargo showroom. 
Can I use a heater on my SplashPool?
Absolutely! We recommend purchasing a heater with your SplashPool because it allows for two extra months of swimming per year. Aside from getting more use out of your pool, it also allows you to maintain a more even temperature!
Can I get a salt water system for my SplashPool?
Yes, this is an option!
How do I maintain my SplashPool's water balance?
You'll need to test your water and maintain it once per week during its months of use. To better understand the water care process, watch this video from our 2019 Pool School. 
Can I leave my SplashPool up year-round?
Shockingly, YES! SplashPools stand out from other above-ground, soft-sided pools because of their ability to be left up all year. While other pools of this type are made out of vinyl, SplashPools are made out of a thick polyester-woven membrane which allows them to bare the elements. Some water needs to be drained from them before winter sets it, but there is no need to disassemble the pool!
If you have more questions, please do not hesitate to reach out! Call us at (844) 200-7727 or stop into any of our showrooms across North Dakota!