Hard Side vs Soft Side Pools
On a beating hot summer day, nothing sounds as delightful as a refreshing splash in a pool. In our experience at HotSpring Spas and Pool Tables 2, the popularity of above ground pools (soft-sided and hard-sided) has grown tremendously due to the affordability and the perceived ease of set-up. To help you decide which kind of above ground pool you may want, we are going to look at its common styles: hard-sided and soft-sided.
Hard Sided Pools
A 'hard side' pool uses a vinyl lining t

o hold water and a sheet metal or resin material for framing. Designed in the 1920's, it's a silo or grain-bend engineered design that gives strength to its structure. It may be a good option for those with a tighter up-front budget. Side Note: Some prefer the sturdier look of hard side pools and think it's sturdier based on the name, but this is not the case. Additionally, you'll likely pay more in the long run. This is due to needing perfectly level ground prep, long installation times, and eventually needing to replace the walls and liner. It also is costly and difficult to disassemble and transport should you choose to move. Thus, we say a hard-sided pool is a temporary pool you set up permanently.
Soft-Sided Pool
The 'soft-sided' pool is different than the 'hard-sided' pool in that it is one big 'bladder'. The bladder serves as the frame and liner in one. The material used in the 'soft-sided' pool varies by manufacturer. But, we consi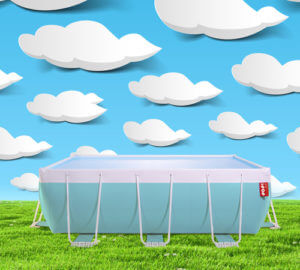 der denier polyester liner to be the best. It's used not only for commercial pools, but other purposes such as commercial roofing. Denier polyester is an extremely durable polyester coated with a urethane sealant. This makes denier polyester waterproof, tough, and pliable. For the framework, we recommend solid steel (just like the Eiffel Tower) for its strength.
Soft sided pools are very easy to set up, portable, and surprisingly strong. That's why we refer to them as a permanent pool you set up temporarily.Their strength and extreme portability also gives them a great resale value. Additionally, you can get them in nearly any size, is often the most cost-effective, is easy to store, and needs only minimal ground prep. Many conjure images of tacky, floppy "big box" store pools when thinking of a soft-sided pool. And, the initial investment on the actual pool itself can be more expensive than a hard sided pool. Additionally, the skimmer typically is on the inside of the pool (makes it slightly harder to winterize and open in the spring when the water is cold).
Whichever pool is right for you, make sure you'll enjoy using it for years to come, consider what it's made of, and provides every day made better. For a peek at some that fit this bill, check out our pools page or stop by one of our showrooms!