HotSpring Spas 2017 Recap
This year, we've been blessed with health, family, and great people we're honored to call customers. In appreciation of everyone, here's our 2017 Recap!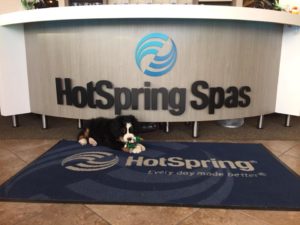 1. We were sad to lose some team members, but also happy to have new team members while expanding. One particularly close to our hearts is (and yes she is our favorite) is Maya. Pictured left is Maya. She is a Bernese mountain dog. She occasionally mans the front desk with her mom, Front Desk Manager, Nancy.
2. We had our biggest year yet with more customers. With that we were able to meet lots of new faces and get to know them better. We're also always happy to see returning customers and those who just stop by to see how things have changed.
3. This past July we had our first customer appreciation day in July that was a big hit! Look out for announcements this spring as we plan on doing it again (but likely sooner than July).
4. We set up shop at over a dozen shows and fairs around North Dakota. It as great for us to keep getting out there and get great feedback and again meet new faces!
5. Our biggest accomplishment of the year was the opening of our Devil's Lake pop-up store. With a bit of luck, hopefully we'll stick around permanently. This is our 5th store in North Dakota! One common owner for the same experience at each location. (Though you'll notice how each store has a different look!)
6. We were honored to once again win the Watkin's Wellness award -a national award given by the parent company of HotSpring Spas.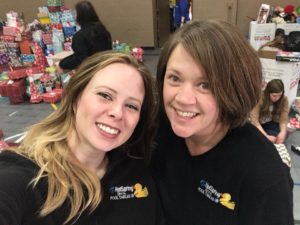 7. Lastly, we are happy to have been part of the Toys for Tots drive. Our hearts were deeply touched by the outreach in our community.
Ahead in 2018:
We've made plans to build an additional warehouse facility starting in spring of 2018 in the lot just west of our current warehouse at 601 Main Avenue West, West Fargo. We'll be keeping our existing warehouse as a service center and focus the new building on administration and display of our used inventory.
We're also planning on doing more shows and fairs. Keep updated on our Facebook page and email list to stay updated!