Don't Delay December: What the Sale is All About
The holidays are coming and we couldn't be more excited! Now's the time where everyone strives to find the perfect gifts for their loved ones, which can be a challenge. Luckily, we're here to help! We want you to be able to give the gift of family fun this Christmas, and we want to give you a good deal on it too! Introducing… Don't Delay December!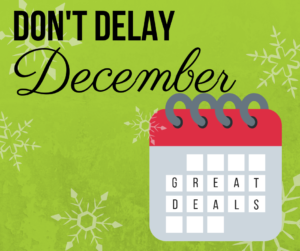 What is it? Don't Delay December is a series of flash sales that will be announced randomly throughout the month. Watch our Facebook throughout the month to get alerts on the sales. Each flash sale will be announced both the night before and the morning of the sale. This will give you a warning for each ONE DAY ONLY flash sale! These deals are so crazy good that we can only offer them for one day each.
We'll be having four flash sales throughout the month on your favorite HotSpring Spas & Pool Tables 2 products such as hot tubs, saunas, and game tables. Keep your eye out on our Facebook page because these sales will come and go in a "flash"!
Are you more of a planner than a spontaneous shopper? Fill out this form to be emailed an exclusive calendar of the Don't Delay December flash sales before they're announced on Facebook! This "heads up" is only offered to those who fill out the form!
Lastly, we don't want you to forget that we have a game room accessory sale going on through the holiday season as well. All game room accessories are 25% off! This includes all sorts of fun gifts such as pool cues, spectator chairs, NDSU or UND pub tables and barstools, NDSU or UND decor, billiards necessities, and more! Stop in any time before Christmas to take advantage of this amazing cash & carry deal. See you soon!