The Perfect Valentine's Day Date
Are you struggling to find the perfect Valentine's Day date idea that will fit into your busy Thursday night schedule? It can be hard for parents of young children to get a babysitter and plan a special date night know they have to work the next day. If you are one of those couples that won't be able to get out for a night on the town, not to worry! We've gathered some ideas on how to make the perfect Valentine's Day date right in your hot tub:
Set your mood lighting
First stop: mood lighting! The red, pink, and purple colors would be perfect to get the Valentine's Day vibes going. Depending on your tub's model and year, you may be able to choose a few colors to alternate between to keep your desired mood!
Get a hydromassage from your jets
Why pay for an expensive couples massage when you can get an amazing massage right in your home or backyard? If you are lucky enough to have Moto-Massage DX, the jets will sweep up and down your back for a full back massage. You and your partner can also enjoy foot massages from the jets on the bottom of the tub!
Add spa scents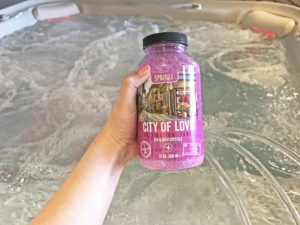 Spa scents are a great way to get a even more relaxing spa experience! They are similar to bath salts, but they are made specifically for hot tubs. They are perfectly safe for your tub's filter and chemical balance as long as they are used as directed. We have a variety of delicious scents in our showrooms from relaxing to sensual. A perfect choice for Valentine's Day would be our drink themed starter pack! It includes a romantic strawberries and champagne scent, refreshing mimosa scent, and even a fiesta sangria scent. Any of the six scents in this pack would be a great choice for a Valentine's Day date! (You can learn more about our spa scents by watching this short video.)
Play some romantic music
Find the perfect romantic playlist to play over your spa's Bluetooth speakers to set the mood! If you have some nostalgic or meaningful songs that you and your significant other both love, you could surprise them with a special playlist. Otherwise, Spotify has tons of love-themed playlists such as "Love Pop" or "Timeless Love Songs".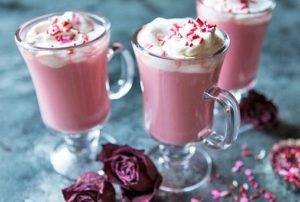 Bring your favorite beverage
We talked about drink scents, but don't forget the actual drink! Whether you like to sip hot chocolate, an elegant cocktail, or maybe a bubbly champagne, don't forget to bring one for you and your significant other. (But remember, don't bring glass into your tub!)
You're ready to get romantic this Valentine's Day! Head on out to your spa and enjoy the relaxing date night you've been needing.