NXT Base Pan and Substructure 101
Base Pan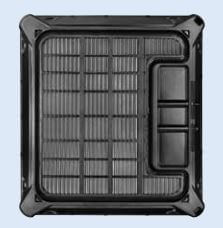 For starters, our base pans do not touch the ground/floor -only the feet do. This way there is little to no heat transfer to the floor or if your hot tub is outside, the cold ground doesn't cool off the tub. Instead, the tub's heat rises back up to and around the tub.
Design
Did you know that a HotSpring Highlife Collection NXT spa is just like a BMW? Well, kind of. HotSpring gathered a collection of design ideas from BMW when we created the Highlife NXT Collection. When it comes to the exterior design, the Highlife NXT hot tub may be even cooler than a BMW. It features beautiful lighting, architectural molded corners, sculpted shells and Everwood HD siding, polymeric substructure, and innovative technology.
Substructure

The NXT polymeric substructure is a lightweight structure that provides outstanding support, while also giving the hot tub a distinctive floating effect. The polymeric substructure as a whole increases the frame and overall hot tubs durability for years to come. The heavy-duty NXT polymeric base pan is engineered with ribbing on the bottom to increase energy efficiency by minimizing contact with the ground. That being said, the base pan does not touch or rest on the ground or floor of where the hot tub is located, only the feet (the four corners of the hot tub) touch the ground. Because the base pan and main surface of the hot tub is not touching the ground, there is little to no heat transfer, meaning the cold ground does not cool off the hot tub.