We'll Help You Stick to Your 2018 Resolutions!
According to Nielsen, a leading marketing research firm, the top five New Year's resolutions are to stay fit and healthy (37%), lose weight (32%), fully enjoy life (28%), save more and spend less (25%), and take more time to spend with family and friends (19%). While the basis for these is eating well, getting appropriate exercise, and making time, taking all the steps for these can be challenging. Great news! You may be able to achieve nearly all of these resolutions just by sitting. Yes you heard us: sitting. While we always recommend staying active as well, sitting in your hot tub or sauna is a excellent way to improve your overall wellness. Allow us to take you through how these two amazing products can help you achieve your New Year's resolutions for years to come: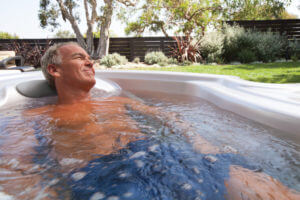 Hot Tubs
Hot tubs are an excellent wellness product, believe it or not! What feels just like relaxing in hot water is actually so much more. Hot tub soaks provide improved cardiovascular health, relief of muscle tension, better sleep and stronger relationships, as explained in one of our previous blog posts (http://hotspringspasandpooltables2.com/health-and-wellness-benefits/four-benefits-of-a-hot-tub/). In addition to the research-backed health benefits, our owner, Vince Wuebker, can speak of the life-changing effects of hot tubs himself. As a avid daily soaker he says, "I tell people 'you become better physically below the water, mentally above the water, and relationally beyond the water.' It's because the heat transfer from the water, along with our powerful jet system, brings instant joint and muscle relief along with improved circulation. I even have a client who says when she soaks, it's the only time she gets to be herself -not a nurse, spouse, home taker, etc. It's her 15 minute soak of paradise."
Saunas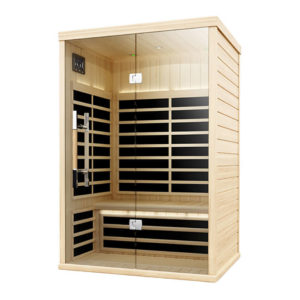 According to the United States National Library of Medicine, sitting in a sauna raises your heart to the same level of cardio exercise (100-150 bpm). LiveStrong says that losing water weight is indeed a temporary effect of sitting in a sauna, but these hot sessions do in fact increase your metabolism, especially when paired with exercise. Saunas also provide an opportunity to spend time with family and friends as most saunas have room for at least 2-3 people. Talk about staying fit and losing weight! (We'd say you'd enjoy life more fully too!)
As you can see, hot tubs and saunas improve almost all of the top five New Year's resolutions! The only thing we can't admit to improving is the "save money, spend less" resolution (although we do have budget-friendly options!). If you're ready to take your own health and wellness to the next level, stop in and see us today. We're ready to help make your resolutions into lifetime habits!