Dolcevita Diva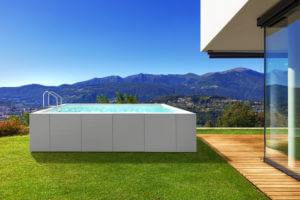 To some, "Above ground pool" renders images of a tacky, flimsy, big-box store, eyesore that holds stagnant water. Contrarily, Splash Pools invented the "Dolcevita DIVA". The DIVA is a contemporary masterpiece which stands with beauty, luxury, and its own filtration system.
First of its kind, the Dolcevita DIVA has a maintenance-free faux wicker. Is it possible? Absolutely, it's possible! It's made from mixed liquid polyethylene and color dye that is molded into rattan-like strands and cured hard. These UV resistant and chip-free strands are then hand woven by experts in Indonesia for a sophisticated, tight wicker.
Fortunately, this is pool is not just a pretty picture. You'll find the DIVA's high-end appearance comes backed with solid construction. It's frame is made from rust-proof stainless steel and galvanized steel topped with SZV-TEC (a protectant). Additionally, its strong (430 kg/5cm) polyester liner is treated to be UV ray resistant. And as for installation, it can go o top of a downtown condo, in your favorite room, or even in your yard because it's lightweight and installed on site (no special foundation needed).
For more details about sizes, warranty and pricing, check out our Dolcevita Diva page or come visit us at one of our showrooms!