Converting a Chlorine Pool to a Salt Water System
Interested in converting your chlorine pool to a saltwater pool?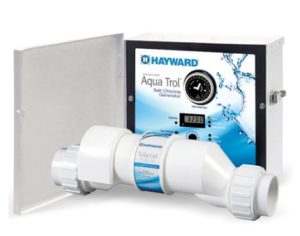 To start, you should know that a saltwater pool is essentially a chlorine pool. A chlorine pool requires you to physically add the needed amount of chlorine to your pool, daily or weekly. In comparison, a saltwater pool has a chlorine generator that produces and disperses chlorine into the pool on its own.
The chlorine generator that you will need to purchase when converting your chlorine pool to a saltwater pool uses electricity and the dissolved salt you have added to the pool to produce a sanitizer. The sanitizer the generator produces is hypochlorous acid and sodium hypochlorite, which is better known as chlorine.
When you are adding a chlorine generator, remember to connect the generator to the return hoses of your pool. It is important to have your water filtered before going through the chlorine generator, meaning the water needs to exit the pool, go through the filter, followed by the chlorine generator, and then through the return back into the pool.
Read about common salt water pool questions here!